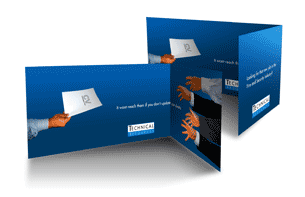 Multi-dimensional strategic marketing
An integrated and strategic approach to marketing and business development is essential for any businesses. Without such an approach your organisation is highly unlikely to realise the full potential benefit of your investment in marketing and sales development activities. By having a clear focus from the outset and ensuring that you accurately identify and carefully target your potential customers, you can increase the effectiveness of your marketing spend and see a real impact on your overall revenues and profitability.

Background
Technical Resources is a highly successful recruitment company, specialising in the IT, telecoms and Fire & Security markets. Founded in 2000, the company has grown rapidly and now employs over 20 people in Weybridge, Surrey. The company has built up a solid reputation in the recruitment sector and is well-respected for its no-nonsense, customer-focussed approach.
The Need
Whilst Tecres had grown rapidly, the company was unsure how best to move forward in an increasingly competitive recruitment market. Whilst they had established a good reputation in their key market sectors, they were keen to develop further opportunities in both existing and new sectors whilst ensuring they also continued to attract the right quantity of high calibre candidates.

The Solution
A full strategic review of the company was initially carried out through in-depth interviews with key sales and management personnel. Having gained a good insight into the companies' strengths and weaknesses, a marketing strategy was agreed for implementation.
This new strategy focussed on which markets to next develop, through segmenting, targeting and positioning. An analysis of available opportunities and an assessment of their potential was also undertaken.
As a result of this strategy development several core elements were developed as part of a multi-dimensional, multi-media activity plan. With a focus on customer acquisition, both candidates and customers, the plan included:
1. A complete overhaul of the company website in response to initial market research, which identified that the majority of potential candidates searched for new vacancies online. The sire has now been fully optimised and is supported by an ongoing pay per click campaign.
2. A programme of regular email newsletters for both candidates and customers has been developed and is continuing to be implemented. Each email broadcast generates a significant surge in visits to the site and subsequently registered candidates.
3. A programme of direct mail communications was also implemented to obtain further contact for the database, which was then segmented and cleaned for optimum accuracy and efficiency.
4. A set of sales tools was developed to support the sales team, including presentation materials and sales folders.

The Result
"Total Marketing Solutions were quickly able to grasp the issues we were facing as a company and provide us with some real focus. Their marketing strategy gave us a strong framework to use to drive the business forward," according to Managing Director Alan Derry. "We have seen a significant increase in the number of candidates registering on our website, which then flows through the rest of our business. TMS have become a fundamental part of our business and their ongoing support continues to play a critical part in our success."