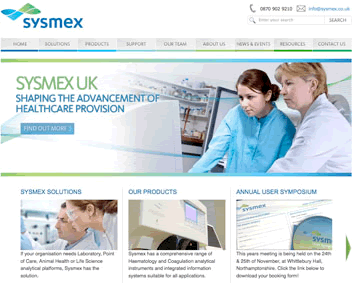 Background
Sysmex UK is one of the most respected and trusted brands in the health care instrumentation market place. Serving both the NHS and independent healthcare organisations, Sysmex UK has a track record of continuous growth in sales volumes and market share and now employs over 80 staff at its head quarters in Milton Keynes. The company has developed a market-leading reputation for its professionalism and the quality of its blood diagnostic products and services.
The need
Despite the company's track record of continuous growth, the senior management team at Sysmex UK could see that the underlying growth trend was showing signs of reaching a plateau. It was also apparent that major and dynamic changes were happening within its core UK customer market-place - the NHS. These changes within the NHS, driven by the growth of Foundation Trusts and by wider policy initiatives such as the Darzi Review and the Carter Report on the future of Pathology services had potentially far reaching implications for Sysmex UK. There was an urgent need to understand these implications in terms of changing customer demands and changes in procurement practices. It was clear that the traditional approach to sales and marketing used by Sysmex UK was increasingly inappropriate in a new, more commercial landscape.
The solution
Sysmex UK engaged Total Marketing Solutions (TMS) to help them address these needs. Our first task was to gain a better understanding of the changes happening in their major customer markets. A detailed market analysis was undertaken to identify the major trends impacting upon Pathology services delivery within the NHS and to understand their implications for Sysmex UK. Following this analysis we developed a 3-year Business Development and Marketing Strategy focused on enabling the business to achieve its long-term growth objectives. Working with the Sysmex UK team, we recognised that it was imperative to provide a flexible yet highly focussed strategy in keeping with the company's unique culture and history. The key elements of this strategy included:
1. Developing a more proactive approach to sales and business development activity based upon a restructuring of the sales team and a more robust, longer-term approach to core sales planning and sales management processes.
2. Moving from a product-led approach to a customer-led approach to all sales and marketing activity, ensuring that these sales and marketing activities are properly 'joined up'.
3. TMS further supported the launch of this strategy over the following 18 months with continued input into the development of the sales strategy and a number of key marketing project initiatives.
The result
"Following feedback by TMS, Sysmex UK made significant changes to our sales & marketing approach with the clear objective of moving to provision of customer solutions rather than just selling technology. TMS worked alongside the Company management providing invaluable guidance at every step of the change process. As a result of these changes Sysmex UK won 80% of public tenders (haematology market) in 2008, compared to 49% in 2007. This has been maintained so far in 2009 and has increased our sales growth from 9.6% in 2008 to 15.6% YTD 2009. Just as importantly the culture of the Company is changing with a clearer understanding of our competitive strategy and how we approach the market, the language within the Company has changed and reflects a Company that is not only winning but knows why it is winning and how to maintain that in the face of a rapidly changing market place."
Keith Howes, Managing Director, Sysmex UK Ltd