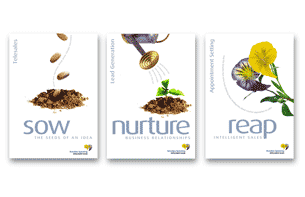 Background
Founded by Hilary Broadley, over the last 5 years the company has grown from a small home office environment with a single telephone employing only 1 person, to a company that now employs over 30 people. Over the same period its sales have grown by an average of 40% a year! Broadley Speaking provides "intelligent" sales and telemarketing solutions to a wide range of business-to-business companies located in the South West and throughout the UK.
The need
Despite its impressive track record of growth, Broadley Speaking had never taken a formalised approach to marketing and business development with the majority of its new business coming from referrals. Hilary and her partner David Conn recognised that the growth in their business was largely unplanned and reactive - they were increasingly concerned that they would not be able to achieve their ambitious growth targets for the company unless they started to proactively take their company to market. Hilary and David were also aware that their customer base had become very diverse and that their range of services had started to diversify away from their core "Intelligent Sales" proposition. They recognised that both of these trends posed a potential long-term risk to the health of the business.
The solution
Total Marketing Solutions (TMS) initially worked to help develop and put in place a 3-year marketing strategy for the business. The purpose of this strategy was to bring clarity and detail to the long-term objectives for Broadley Speaking. This strategy defined the customer groups that Broadley Speaking wanted to do business with; it also defined Broadley Speaking's product and services offer and it helped to define the Broadley Speaking brand proposition - it answered the question 'what does Broadley Speaking want to be famous for?'
Once the strategy had been defined and agreed, TMS worked with Broadley Speaking to put in-place the first year marketing activity plans and budgets required to achieve the objectives of the strategy.
Working with a limited budget and within tight budget guidelines, the core elements of this initial activity plan included:
1. Launching an integrated Direct Mail and Telemarketing campaign to generate qualified sales leads in target customer segments - using the expertise contained with Broadley Speaking to maximum effect.
2. Building Broadley Speaking's on-line presence through a combination of Search Engine Optimisation and pay per click advertising on Google and Overture. The Broadley Speaking website was also completely redesigned and rewritten.
3. The development and implementation of a formal referrals process to maximise the opportunities from Broadley Speaking's customer base and from non-competing organisations who also traded with Broadley Speaking's target customer groups.
The result
"Working with Total Marketing Solutions has enabled Broadley Speaking to develop a clear vision of what the business stands for and how we are going to achieve our objectives for growth. This vision has been shared with the Broadley Speaking team to help generate a genuine excitement about the future possibilities for the business. Total Marketing Solutions has also helped us further by developing and then delivering a range of practical and cost-effective marketing activity to take our offer to market and to build our sales. This activity is already yielding real results, we have established our brand on-line and in combination with our DM and telemarketing activity we are generating a substantial number of new business opportunities."
David Conn - Director, Broadley Speaking