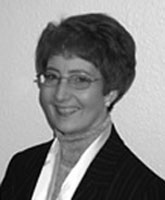 Sandra has recently joined forces with Total Marketing Solutions as a Senior Consultant working largely with health care clients.
She is a professional and highly experienced marketer with a background in blue chip companies and agencies including Thomas Cook, Smith & Nephew and Saatchi & Saatchi. Since the 1980's, she has specialised in the health and care sectors where she held director-level roles in McCarthy & Stone, General Healthcare Group and BUPA.
After becoming a freelance consultant in 2000, Sandra has undertaken marketing and strategic development assignments for a range of clients within the NHS and independent sector.
Sandra has an MBA from Henley Management College and holds the Chartered Institute of Marketing's Post Graduate Diploma in Marketing. She is Fellow of the Chartered Institute of Marketing (CIM) as well as being a Chartered Marketer.
Summary Profile
Sandra's career in marketing and general management spans three decades, covers both client-side and agency side experience and a number of sectors including healthcare, IT, construction, toiletries and travel.
She is an experienced speaker and a prominent member of Toastmasters International, the internationally recognised communication and leadership organisation.
Sample Consultancy Assignments
Nottinghamshire NHS Healthcare Trust - working with the Trust's communications consultancy to deliver an internal communications audit and strategy
NHS Delivery and Support Unit - Conducting a series of in-depth telephone interviews with Clinical Directors of Welsh NHS Trusts to assess progress on the Access 2009 Project.
Royal Free Hampstead NHS Trust - Developing and delivering a marketing workshop for the senior management team of the Trust.
Hutchison 3G - Determining market opportunities for 3G mobile communications technology in the NHS.


BMI Healthcare - Researching a major market overview of cancer services


Nuffield Hospitals - Producing a comprehensive market assessment and feasibility study for renal services


P&G Professional - Conducting a major study into strategic issues in long term care
Priory Healthcare - Exploring the views and preferences of service users and health and social care professionals to determine the feasibility of a new mental health facility


SPVS - Researching a market overview of the veterinary care market for a professional veterinary association, to assist vets to improve their business planning
Click here to contact Sandra.